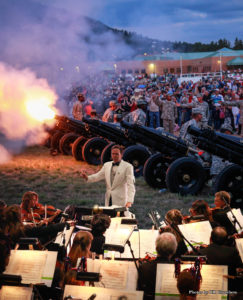 The Symphony Above the Clouds event will be held on Wednesday, July 5th, 2017. Gates open at 5:00 PM with the pre-band starting at 5:30. This year our pre-entertainment will be the Swing Factory.
The Colorado Springs Philharmonic will begin playing at 7:30 PM.
Fireworks and Cannons will close out the evening during the finale, around 9:00 PM.
This is an OUTSIDE event so dress for the cool Colorado evening!
Location: Woodland Park Middle School – behind the school on the track and field location.
Dogs are NOT allowed on school grounds at this event.
This is a FREE concert, but all donations are gladly accepted at the event.
Hope to see you all there!