32nd Annual Symphony Above The Clouds with Guest Conductor David Buttery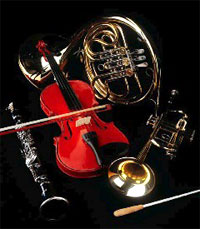 When: Thurs., July 5, 5:30 p.m. 2012
Phone: 719.687.1304
Price: FREE
The UTE Pass Symphony Guild has announced the 32nd Annual Symphony Above The Clouds at Woodland Park Middle School, 600 East Kelly Road
WOODLAND PARK, CO: Tchaikovsky's 1812 Overture, and all the celebrations of our nation's founding is being planned for the 32nd year on July 5 in Woodland Park, Colorado.
"An outdoor evening of fun with music by the Colorado Springs Philharmonic with associate conductor Thomas Wilson and Ceol Ceili (Irish folk music group)." said Nancy Spradling, UTE Pass Symphony Guild President.
The guest conductor is Woodland Park city manager, David Buttery.
Gates open at 5:00 p.m. with Ceol Ceili beginning at 5:30 p.m. and the Philharmonic playing at 7:30 p.m.
"Everyone is encouraged to bring lawn chairs or be prepared to sit on the ground as seats in the metal bleachers are limited," Spradling said.
People are also encouraged to bring jackets and a picnic dinner or snacks. The Panther Pride Athletic Boosters, will sell hamburgers, snacks and drinks.
No dogs, smoking or alcoholic beverages will be allowed on the field, according to event organizers.
The Ute Pass Symphony Guild has brought the event to Woodland Park for more than 31 years through donations from businesses and patrons. "We really appreciate the generosity of the Teller County citizens, businesses, and government entities so that the Ute Pass Symphony Guild is able to present this concert," Spradling said.
For more information about the Ute Pass Symphony Guild or how to support the organization visit: http://symphonyabovetheclouds.org
The Colorado Springs Philharmonic has been an amazing partner over the years, performing on July 5th in weather conditions that have been truly awful at times. "In the 31 years of our association, the concert has only been cancelled because of weather twice. That record is certainly the result of the orchestra's willingness to go above and beyond what's required," Spradling said. More at: www.csphilharmonic.org/about-us
About Ute Pass Symphony Guild: Founded in 1979 for the purpose of promoting excellent music within the community. Partnerships/Sponsorships are available. For more information: 719.687.1304.